When it comes to messaging apps, WhatsApp is undoubtedly one of the most popular messaging apps. However, the Official version of WhatsApp only has basic features. That's why millions of WhatsApp users want to give it a try to different WhatsApp Mods.
One such WhatsApp mod is YoWhatsApp APK which comes with advanced features. It is a modified version of WhatsApp that provides a wide range of features, making it a popular alternative.
In this article, we will provide a comprehensive guide to Yo WhatsApp APK, including its features, download process, and installation steps. So let's get started.
| | |
| --- | --- |
| APK Name | YoWhatsApp (YOWA) |
| Latest Version | v20.80.10 |
| Android | 5.0+ |
| Category | WhatsApp |
| Update | December 2023 |
| Downloads | 1,00,000+ |
Also Download: GB WhatsApp APK
Features of YoWhatsApp APK
The main reason for YoWhatsApp's popularity is its extensive features. Here are some of the features that make Yo WhatsApp an attractive alternative to WhatsApp.
User Interface and Customization
One of the primary advantages of YoWhatsApp is its customization options. Users can customise almost everything, including
Change Font Style – With the latest version of YoWhatsApp APK, you can now change fonts on WhatsApp. The font change will be applied to WhatsApp only. If you want to change your fonts system wide, consider changing your fonts from system settings.
Chat Bubbles – With this feature enabled, you can get a chat bubble for WhatsApp similar to the chat heads feature. Chat bubble is a small floating icon that appears when you are not using WhatsApp or using any other apps.
This makes it easier for the person to multitask and respond to the messages while working on the other apps.
Notification Bar – You can customise the icon in the notification bar as well with the latest version of Yo WhatsApp.
Theme Store – Various themes can be downloaded from the app's library and you can also create your own theme as well.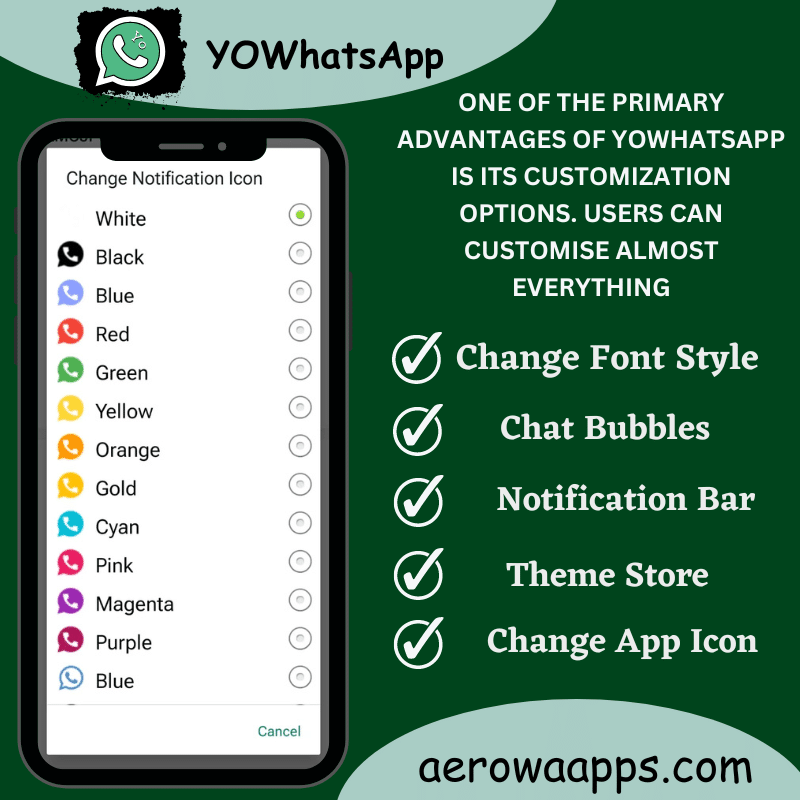 Privacy and Security
Yo WhatsApp takes privacy and security seriously. The app offers various features that helps WhatsApp users to keep their WhatsApp experience more private and secure.
Hide Online Status – With this feature enabled, you can now hide your online status. The difference between this and official WhatsApp is that you can hide your online status and at the same time will be able to see other people's online status.
Disable Blue Ticks – This feature disables the blue tick. If someone sends you a message and you see the message, the other party won't be able to see that you have viewed their message.
Typing Status – This feature is enabled by default. It hides your typing status when you are typing something. The official version doesn't have this feature.
Hide Chats – You can now use a passcode or fingerprint lock to secure your chats. Just tap and hold the Yo WhatsApp header on top.
Communication and Messaging
Send Messages to Unsaved Contacts – You can now send messages to the people that are not in the contact list. This comes handy when you want to send a message to someone and don't want to save their number on your phone.
Scheduling Messages – With the latest version of YoWhatsApp, you can now schedule the messages and the content of the message. You can also select multiple contacts as well and set up a single message for it.
Encrypted Voice and Video Calls – YoWhatsApp has fortified the voice and video calls and they are more stable and secure than ever.
Media Sharing and Downloading
Yo WhatsApp offers a range of media sharing options such as sending large files, sending more than 100 images at once and sharing longer videos. Let's take a close look at each feature below.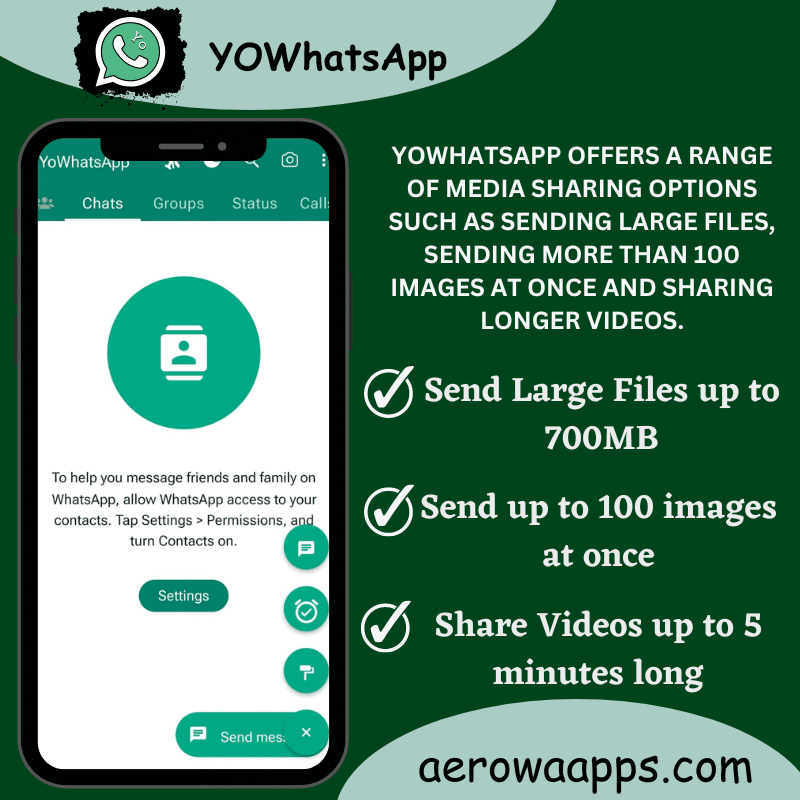 Send Large Files up to 700MB – Official version of WhatsApp has a limit of 100 MB if you are sending a file over WhatsApp. However, this limit is now increased to 700 MB which is huge.
Send up to 100 images at once – The official version allows you to share 30 images at once. But the YoWa lets you send 100 images at a time. Great feature, isn't it?
Share Videos up to 5 minutes long – YoWhatsApp allows you to share videos that are 5 minutes or longer. In the official version there is a limit.
Download other people's statuses – Official WhatsApp doesn't have any feature to download the status. However, Yo WhatsApp lets you download the image and video status of your friends and family right within the app.
You don't have to use any third party apps to be able to download the status videos and images.
Additional Features
In addition to the features mentioned above, YoWhatsApp also offers a variety of additional features.
Copy Other People's Statuses – YoWhatsApp lets you copy people's status. Sometimes there is a text status posted by someone and we want to copy it, but there is no official feature that lets you copy the text status. However, with YoWhatsApp you can now copy the text status easily with a single tap.
Automatically Reply to Messages – Yo WhatsApp also gives you the ability to reply to the messages sent by other people. You can set a certain message for an upcoming message. You can also schedule the messages too.
View Deleted Messages – You can see messages deleted by other people. In the official version, you can not see the messages that were deleted by other people. However, with YoWhatsApp, you can still see the messages deleted by your friends.
How to Download and Install YoWhatsApp APK
Now that we have discussed YoWhatsApp's features let's move on to downloading and installing the app.
Pre-installation Steps
Before downloading Yo WhatsApp, you need to ensure that you have enabled the "Unknown Sources" option in your device's settings. This particular setting lets you install apps on your devices.
Downloading YoWhatsApp APK
To download YoWhatsApp APK, we recommend clicking on the download button above. We are official providers of YoWhatsApp APK. If you want to use safe and secure YoWhatsApp without viruses or malware, download the latest version of Yo WhatsApp APK from our website only.
After clicking on the download button, the app will take you to the list of different versions. For the latest security updates, always choose the latest version.
Installing YoWhatsApp APK
After the download is complete, go to the file manager or folder where you have downloaded the APK file. Tap on it and install the app.
Activating YoWhatsApp APK
Once the installation is complete, open the app, and enter your phone number. You will receive a verification code that you need to enter to activate your account. After verification, you can start using Yo WhatsApp with all its awesome features.
Also check: WhatsApp Plus Apk
Conclusion
In summary, YoWhatsApp APK is a popular WhatsApp mod like FM WhatsApp, Aero WhatsApp that can be used as an alternative to official WhatsApp. It offers dozens of cool additional features and customization options.
So if you are a WhatsApp lover then you should definitely check out the YoWhatsApp APK. We recommend you download YoWhatsApp from an official source like our website.
Also, make sure to use your secondary number and avoid overusing the extra features in the Yo WhatsApp APK. Happy chatting! If you have issues or questions regarding the YoWhatsApp or are facing problems installing the app, then drop your messages in the comment section.
We will try to reach out to you as soon as possible. Meanwhile, check out our installation guide and FAQs to get the answers to most of the questions regarding the YoWhatsApp.
FAQS
Is YoWhatsApp APK more secure than WhatsApp?
YoWhatsApp APK offers additional privacy features, such as hiding your online status, blue ticks, and typing status. However, having these features on the board doesn't make it more secure.
You must download the app from a trusted source i.e. from our site. And also make sure to not share any personal information.
Can Yo WhatsApp APK spy on my messages?
YoWhatsApp APK is not designed to spy on users or steal personal information. But it is important to download it from our website. We provide clean and scanned files so you don't have to worry about viruses and other potential risk factors.
Can I customise the YoWhatsApp APK user interface?
Yes, Yo WhatsApp APK offers a range of customization options, including the ability to change themes, fonts, and colours.
Can I use YoWhatsApp APK on multiple devices?
Yes, you can use YoWhatsApp on other devices as well. But one number can be used at a time.
Can I make a voice and video call on YoWhatsApp APK?
Yo WhatsApp APK supports voice and video calls, just like the official WhatsApp application.
Can I use YoWhatsApp APK to message non-YoWhatsApp users?
Yes, YoWhatsApp APK can message any WhatsApp user, regardless of whether they are using the official WhatsApp application or a modded version.
Summary
Author Rating
Software Name
Operating System
Software Category
Price
Landing Page